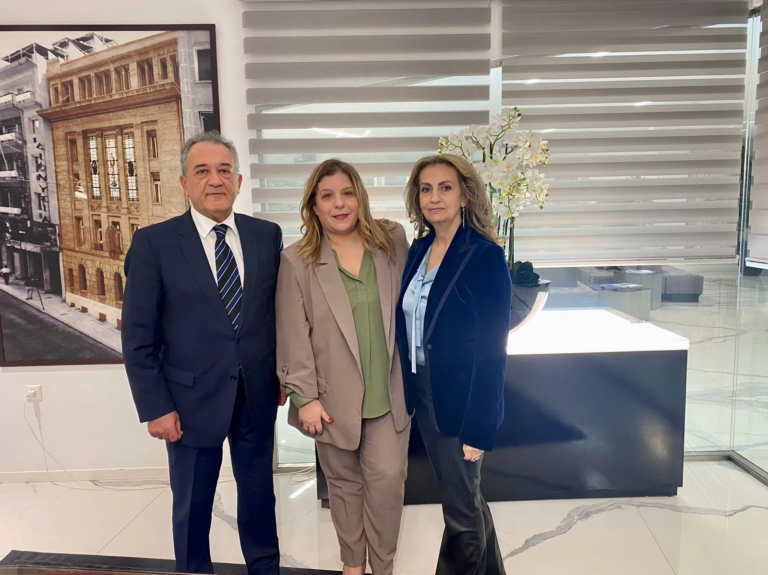 The new President of the Athens Chamber of Commerce and Industry (ACCI), Mrs. Sofia Kounenaki Efraimoglou, met with the Deputy Minister of Labour and Social Affairs, Mrs. Maria Syrengela, on 10 October 2022. The focus of the meeting was on the actions implemented by the Ministry of Labour and Social Affairs to support women's work and entrepreneurship and the economic empowerment of women. In addition, the inclusion of the Chamber of Commerce and Industry in the Greek Innovation Lab for Women (#GIL4W) is being launched with the aim of strengthening women's entrepreneurship. A Memorandum of Understanding will be signed soon.
After congratulating Mrs. Efraimoglou on her election to the Chamber, as she is the first woman in the history of the Chamber to be elected to this position, Mrs. Syrengela said that "we stand by working and unemployed women and promote actions and measures that encourage female entrepreneurship and increase the participation rates of women in the labour market". "We support women who wish to start their own business venture. With NSRF programmes, with actions of the Ministry of Labour and Social Affairs or the creation of the Innovation Centre for Women, we help women substantially," the Deputy Minister stressed.
According to Mrs. Syrengela: "The measures we are planning and implementing are practical, substantial and effective measures. With our initiatives, we are helping women to balance their professional and private lives and overcome all the obstacles they encounter in their efforts to pursue their professional dreams, break the 'glass ceiling' and climb to positions they deserve." "However, we are not complacent and continue our efforts until we break down the stereotypes that have shaped specific roles for women in society and offer workers and women workers equal opportunities," the Deputy Minister added.
For her part, Ms Efraimoglou said: "In today's meeting with the Deputy Minister of Labour and Social Affairs Maria Syrengela, we discussed actions and policies aimed at strengthening the position of modern women in the labour market and in business. After all, as the Chamber of Commerce and Industry, we have long believed that with appropriate interventions in education, the labour market and social policy, we can provide strong incentives for female entrepreneurship to flourish. Entrepreneurship does not and should not have racial characteristics. However, in order to make this a reality, we must first achieve significant gender equality in terms of women's access to and retention in the labour market, their access to training and the balancing of work and family life. The EESC will take the lead in this effort. Our cooperation with the Deputy Minister will continue with the aim of evolving towards the adoption of specific actions and policies by the State that will serve the above objectives."
It is noted that the meeting was attended by Antonis Panagopoulos, member of the Board of Directors of the Chamber of Commerce.