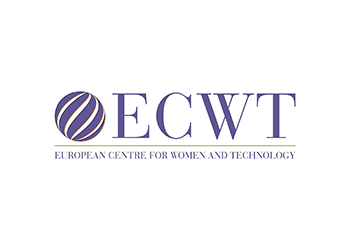 The European Centre for Women and Technology (ECWT) is a European multi- stakeholder partnership of more than 130 organizations and a rapidly growing member of individuals representing high-level expertise in women and technology development from government, business, academia and non-profit sectors working together to measurably and significantly increase the number of girls and women in technology and ICT in specific.
ECWT is today the leading European level platform for ensuring the gender dimension of the Digital Agenda through finding ways and means for measurably and significantly increasing the number of girls and women in STEM and computing and integrating a critical mass of women in Europe in the design, research, innovation, production and use of ICT between 2010 and 2020.
ECWT helps organizations to find the best talents and helps girls and women to match their career lifecycles with industries needs through providing a community of excellence, leveraging resources and research, presenting and rolling out best practices, innovative actions and services and benchmarking and measuring impact.
The European Centre for Women and Technology is a European non-profit organization registered in Norway.
ECWT functions as the European Regional Single Point of Contact, the first of Ten Regional Centers established upon the initiative of the International Taskforce on Women and ICTs (ITF).
The ECWT implements its strategy through the National Point of Contacts (N-PoCs) established in Member States and other European countries functioning as a national platform of multi-stakeholders supporting women's full participation in the knowledge based economy and the implementation of the Commission's Digital Agenda and the Europe 2020 strategy.
The Secretariat of the European Centre for Women and Technology (ECWT) in Drammen, Norway since the regional innovation centre Papirbredden Innovasjon, the Norwegian Research Council and the County of Buskerud were the Norwegian key actors supporting the start-up of ECWT between 2008 and 2010.
🌐
https://www.ecwt.eu/en/home